Wind-scattered seeds inspire researchers to design non-motorized 3D electronic micro-flyers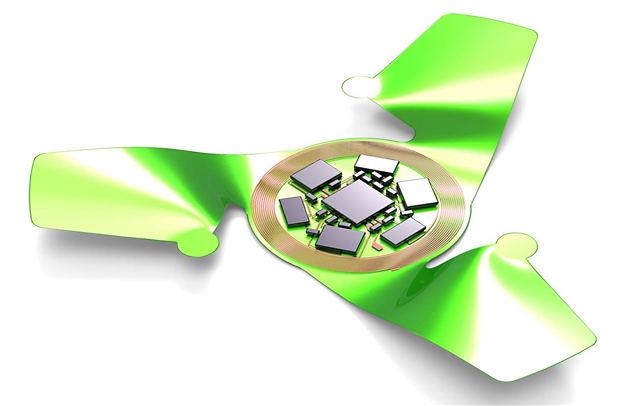 SEOUL – In a government-sponsored study, researchers designed three-dimensional, non-powered electronic micro-leaflets that can be sprayed in mountains and fields to monitor environmental pollution when combined with electrical circuits of the Internet of Things (IoT), inspired by the scattered wind of seeds.
Electronic leaflets are of the active type, and there is a limit to miniaturization due to mechanical parts and complex design. It is very difficult to improve the energy efficiency consumed in flight. The researchers created a passive-type leaflet with optimum efficiency, the Ministry of Science and ICT said in a statement on September 23.
A joint study led by Kim Bong-hoon, professor at Soongsil University, and John A. Rogers of Querrey Simpson Institute for Bioelectronics at Northwestern University paved the way for the easy manufacture of IoT devices capable of measuring accurately the concentration of fine dust in the air as a passive type electronic leaflet can be reduced to a very small size, the ministry said.
"Through follow-up research, we will be able to develop next-generation robots and airplanes capable of monitoring and observing new types of environmental pollution in mountainous terrain," Kim said.
Large, distributed collections of miniaturized and wireless electronic devices could form the basis of future systems for environmental surveillance, population surveillance, disease management, and other applications that require coverage at large spatial scales. The research team examined passive structures designed for controlled, non-motorized flight through natural or urban environments.
Mechanically guided assembly techniques of 3D mesostructures provide access to miniature 3D leaflets optimized for these purposes, in processes that align with the most sophisticated production techniques for electronic, optoelectronic, microfluidic and microelectromechanical technologies, the team said in its research paper published on the website of Nature, a London-based scientific journal.
The researchers presented a range of macro, meso, and micro-scale 3D flyers, including those that incorporate active electronic and colorimetric payloads, the team said. "Analytical, computational and experimental studies of the aerodynamics of high-performance structures of this type establish a set of fundamental considerations in bio-inspired design, with an emphasis on 3D aviators that exhibit controlled rotational kinematics and low terminal speeds. "
"Wireless and battery-less devices and colorimetric sensors for environmental measurements provide simple examples of a wide range of applications of these unusual concepts," the team said.
© Aju Business Daily & www.ajunews.com Copyright: Any material on this site may not be reproduced, distributed, transmitted, displayed, published or broadcast without permission of Aju News Corporation.