The 66th Karnataka Rajyotsava was celebrated at BHEL – Electronics Division, Bengaluru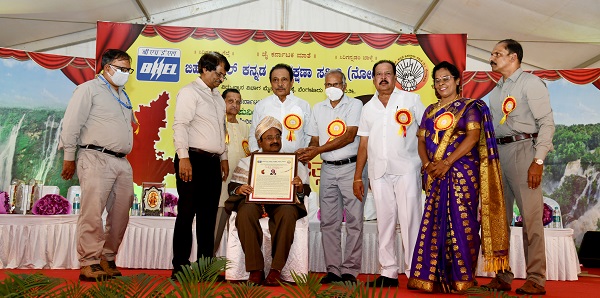 Bangalore: The 66th Karnataka Rajyotsava was celebrated in the BHEL-Electronics division of Bengaluru on December 10, 2021.
Shri AK Jain, Executive Director (EDN), chaired the colorful function, jointly organized by BHEL Management & BHEEA under the auspices of BHEL Kannada Hitarakshana Samithi, On this occasion, Dr. C Somashekhar, IAS (Retd) -Chairman, Karnataka Border Regional Development Authority; Shri HS Lakshminarayana Bhatta, retired. Principal & Laureate; Dr Tamil Selvi, Headkananda Department, University of Madras, was commended for his distinguished service in their respective fields. Shri Ananda C, Executive Director (CLD & PSG) -BHEL and the employees retiring in the next year and the talents of the employees were also praised. Shri Sa.Ra.Govindu, President, Hon. The President, Kannada Hitarakshana Samithi and Shri M Krishnappa, Former Minister and Member of Parliament for Vijayanagara Constituency honored the occasion, alongside Shri Joy Alexander, AGM-HR; Shri HR Nagaraju, Vice President, BHEEA and Shri L Shivakumar, President, Kannada Hitarakshana Samithi. A Kannada Books exhibition and sale was organized. A group dance and "ondu muttina kathe", a play was presented by the troupe of employed artists.