Sony, LG and Hisense crowned "Kings" in 17th Annual Value Electronics for Best TV and Projector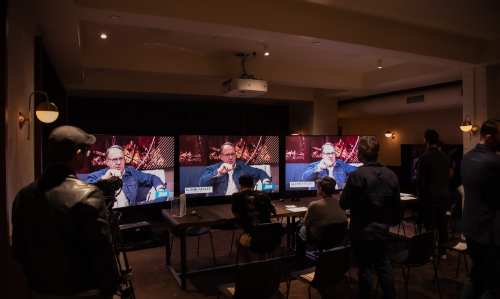 Sony's XR-A90J was crowned King of 4K TVs and LG's OLEDZXPUA was crowned King of 8K TVs at the 2021 Value Electronics TV Shootout evaluation event. The first UST Projector Shootout evaluation took place this year, with Hisense L9G crowned the "UST Projector King".
The 17th Annual Value Electronic TV and UST Projector Shootout was hosted at Company (335 Madison Ave, NYC) and sponsored by Dealer. In-person participation was very limited this year, with the event closed to the public to allow for good social distancing. However, a moderate livestream allowed anyone who was interested to join the experts to review TVs and participate virtually.
Flagship TVs and projectors have been put together to be tested and rated by video experts in each of the picture quality attributes. The winners were awarded in each category for 2021: "King of 4K TV", "King of 8K TV" and "King of UST Projectors". It was a close competition with premium panels competing.
4K TV Winners
Here are the competing 4K TVs (in alphabetical order):
8K TV Winners
Here are the 8K TVs in competition (in alphabetical order):
UST Projector Winners
Here are the UST projectors in competition (in alphabetical order):
An impressive group of video experts have been assembled to test and rate flagship TVs and UST projectors on several picture quality performance attributes. All TVs have been calibrated to their best potential by well-respected calibrators John Reformato and Jason Dustal so they can be on a level playing field. Here is a list of the panel of judges who determined the king of television:
Judges (in alphabetical order):
Phil Holland, director and cinematographer
Charlie Anderson, Digital Imaging Technician and Director of Photography (TV judge only)
David Medina, Director of Technical Production Operations, HBO
Giles Sherwood, Postproduction Director, Criterion
Jason Diamond, Director and Executive Producer (TV judge only)
Mark Henninger, Projector Reviewer and Photographer / Videographer (UST judge only)
Jason Dustal, ISF III Calibrator and Instructor and Application Engineer, Murideo
Jeff Hagerman, Digital Imaging Technician
David Mackenzie, Compressor, Fidelity in Motion
John Reformato, engineer and ISF III calibrator
Channa De Silva, owner of Techno Dad YouTube channel
"We would like to thank everyone who helped make this event a success! Congratulations to all the manufacturers of the major flagship televisions competing this year, "said Robert Zohn, president of Value Electronics in Scarsdale, NY, and CE Pro Masters member.
Here is the Judges Dashboard: