LG Electronics builds high-capacity energy storage system at steel mill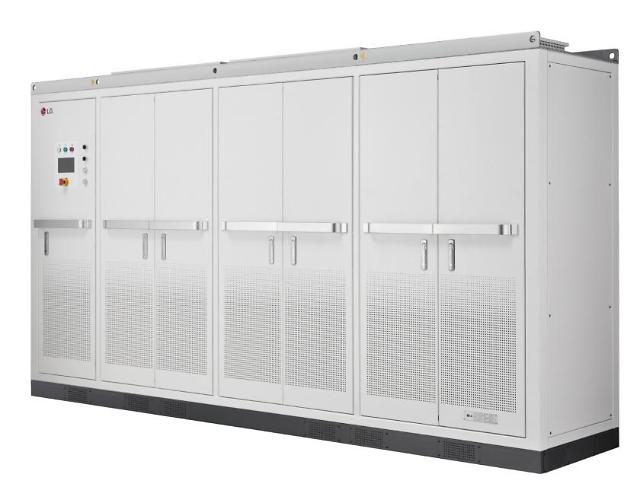 SEOUL – LG Electronics implemented a large capacity energy storage system at a steel plant to reduce operating costs by storing electricity at night and using stored energy during peak hours. It is South Korea's largest system capable of storing enough energy to power some 15,000 homes per day.
An energy storage system (ESS) is normally a large capacity modular battery pack the size of a container. It is widely used in the renewable energy production industry to store energy when solar or wind power plants are active. Electricity is distributed to micro-grids, local power grids, or a dedicated power grid when electricity is not being produced. ESS is also used to store energy when electricity is cheap at night.
LG Electronics said in a statement that the company has completed construction of an ESS with a capacity of 174.7 megawatt hours at a steel plant operated by KG Dongbu Steel. It is equipped with special equipment that will prevent the spread of fire if the battery burns. The system has a real-time monitoring solution that can be controlled remotely from a control tower.
Unlike traditional metallurgy plants that use fossil fuels to power furnaces, modern steel mills use electric furnaces or electric heating equipment to smelt and process metals. Since the electric heating process is very inefficient and consumes a lot of electricity, large sums of money are used as operating costs.
Some manufacturing facilities, including still mills, use renewable energy such as rooftop solar power, micro hydropower, or wind power to reduce operating costs. In June 2021, Hanwha Q Cells, the solar cell manufacturing wing of South Korean group Hanwha, was selected to lead a project to build solar panels on factory rooftops and unused space in an industrial complex located in the southern port city of Pohang.
© Aju Business Daily & www.ajunews.com Copyright: All material on this site may not be reproduced, distributed, transmitted, posted, published or broadcast without permission of Aju News Corporation.