Hover-Davis and CCL Design Electronics will showcase their extensive die-cut component, label and material automation solutions at the IPC Apex Expo in San Diego, CA.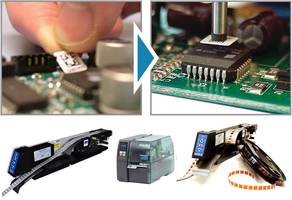 Hover-Davis, known as The Feeder Company and CCL Design Electronics, the world's largest converter of pressure-sensitive labeling materials, functional die-cuts and overlays, will showcase their latest automation solutions at the 22nd IPC Apex Expo in San Diego, California on January 25th. -27.
CCL Design Electronics will showcase new precision die-cut self-applying materials including labels, solder/coating masks, gaskets, filters, RFID tags, overlays, flex circuits, and more.
Through its distribution partnership with CCL Design, Hover-Davis provides customers with process-optimized, high-durability, self-applying materials with its industry-leading AXIUM Series dispensers available for industrial applications. electronic assembly and industrial automation.
Combined with CAB SQUIX Series 600 dpi thermal transfer printers and accessories, the solution provided by Hover-Davis enables customers to reliably automate labels as small as 3mm x 3mm. CCL's innovative 540 Series tags can be laser marked for real-time high contrast serialization during PCB assembly and rework using Hover-Davis loaders for laser marking systems in line. These state-of-the-art technologies enable smart Industry 4.0 factory data management using existing machinery and floor space.
Hover-Davis will also showcase its latest ribbon, tube, tray and radial component supply options available for SMT assembly machines as well as robots, chip programming and other specialty automation systems. The Feeder Company's new Flexion semiconductor feeder enables bare die assembly directly from a wafer. Hover-Davis designs and manufactures its feeders at its factory in New York, USA.
Visit CCL Design Electronics and Hover-Davis at booth #2037 at the IPC Apex Expo in San Diego, CA, January 25-27, to see their latest innovative solutions.
About Hover Davis:
Celebrating 30 years of development and innovation in automation technology, Hover-Davis manufactures premium, maintenance-free component and material loaders for a wide range of electronic assembly systems and equipment. industrial automation. Product lines include high-speed tape feeders for surface mount devices, label and die-cut material automation solutions, and radial, tube, tray and wafer feeders for integrating automation. Based in Rochester, New York, Hover-Davis was founded in 1989 by John Hover and Peter Davis. Hover-Davis is currently an ISO9001:2015 certified business unit of Universal Instruments Corporation.
About CCL Electronic Design:
CCL Industries, the global leader in innovative labeling solutions, has acquired privately held Worldmark Limited and Nortec International, specialist suppliers of pressure-sensitive and high-temperature labels, to become the world's largest converter of label materials. labeling and total identification solutions for automatic application and high temperatures. – technological applications. CCL Design Electronics combined business unit's ISO9001:2015 and IATF 16949:2016 certified products are successfully used in industries such as electronics (PCB), medical, aviation, energy, military , automotive, security, etc. With operational headquarters in Scotland, CCL Design Electronics has over 2,000 employees across six manufacturing plants in China, Mexico, Hungary and the United States, as well as sales offices and prototype design centers in California and Ohio.
Contact Hover-Davis:
Chris Fletcher, General Manager
Phone: +1-585-352-9590
Email: [email protected]
Web: HoverDavis.com
Contact CCL Electronic Design:
Oscar Estrada, North America Commercial Director
Telephone: +52 (1) 33 5000 4414
Email: [email protected]
Web: CCLDesignElectronics.com
More electrical equipment and systems