HI Mechanical keeps its employees happy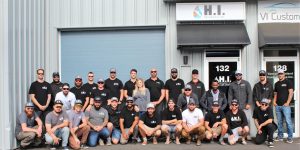 Positive team dynamics give HI Mechanical the tools it has Must go the extra mile for customers
VICTORIA – HI Mechanical started in 2017, founded by corporate directors Craig inglis and Tristan Room. Dealing with heat pumps, plumbing, furnaces, sheet metal fabrication and mechanical engineering, HI covers a lot of ground, with a knowledgeable staff of over forty.
"We employ Red Seal plumbers, gas fitters, sheet metal workers, refrigeration mechanics, project managers and more," notes Tristan. "Many of our employees have multiple Red Seal credentials in multiple trades and we offer residential, commercial, industrial and heat pump sales among our services. Our team is excellent at what they do and prove themselves every day.
HI maintains a list of happy employees by fostering a team-oriented work environment that enables them to deliver high-quality, cost-effective projects to their clients. Satisfied employees equal satisfied customers.
Another component of HI Mechanical's positive team dynamics is diversity.
Elaborates Craig: "Like any business with more than 40 employees, our team comes from a multitude of backgrounds. At HI Mechanical, we pride ourselves on establishing and maintaining an inclusive atmosphere where all individuals can learn, create and be heard while developing their skills and developing their careers in an exciting and enjoyable environment. We greatly support women in the trades, and our own staff increasingly reflects that. The women on our team are vital, and their skills and presence will help us continue to develop and maintain an atmosphere where women in the trades can thrive and build their careers here.
Although 18 months of work during the pandemic were difficult, HI has continued to operate in a safe manner, still providing jobs for its valued employees while supporting the community with exceptional service. As Canada moves towards the light at the end of the tunnel, Craig and Tristan look forward to the year ahead.
Tristain concludes: "Our goal for 2021 and beyond is to continue our growth and success, providing the highest quality professional mechanical contracts on Vancouver Island, with the best team in the industry. "
Related