Advancing Technology – Mechanical Engineers at Manav Rachna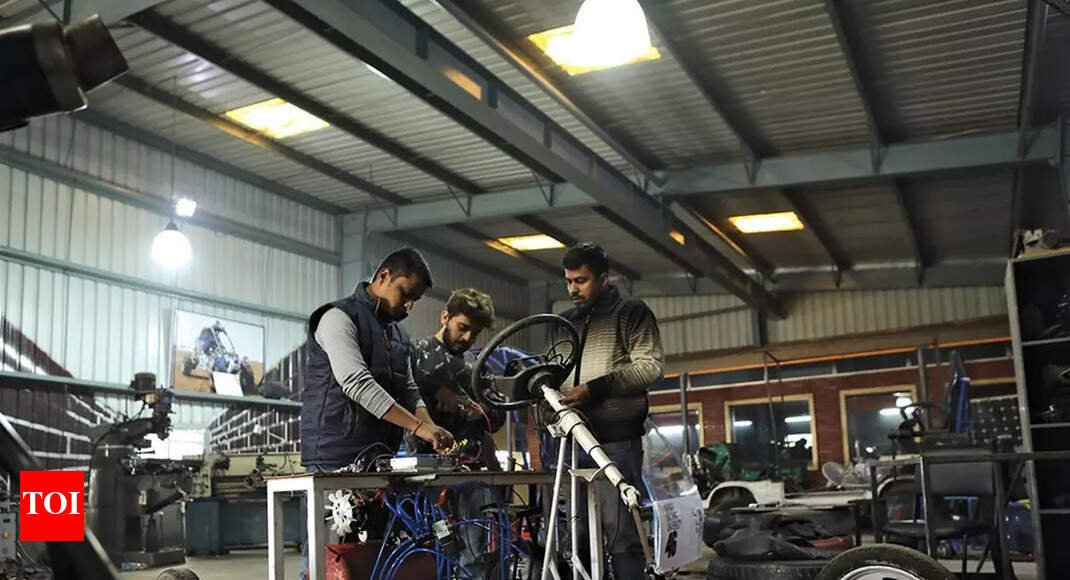 According to CII's Manufacturing Innovation Conclave 2021 report, advanced digital technologies will transform manufacturing processes, products and services and drive new emerging business models that are expected to catalyze
growth
opportunities. The factories of the future will be brilliant, information-driven, and offer unique and personalized intelligent products and services. Technologies such as additive manufacturing and industry 4.0 will have a significant impact on the direction of industry innovation efforts.
That said, the employment growth rate for mechanical engineers is expected to increase by 9% between 2016 and 2026, according to recent reports. 21st century manufacturing facilities ushered in a new era of manufacturing, combining modern robotic technology with fully integrated production systems. Smart Manufacturing, which encompasses the latest innovations in sensors, robots, big data and controllers, helps manufacturers take smart, connected manufacturing systems to a new level. Due to its vast scope, mechanical engineering is not limited to the manufacture and testing of huge machines and equipment. Its integration with new fields dominates new developments which include product development, robotics, new materials, nanotechnology, computer aided design, geomechanics and biomechanical engineering, among others.
Congratulations!
You have successfully voted
A major challenge facing mechanical engineering graduates today is the right skill set and the right knowledge. Closing the skills gap is the key to boosting your career prospects. Students should have good coding skills, communication skills, and interpersonal skills, to be suitable for industrial requirements. Skills such as design, simulation, data analysis, system testing and automation are added value.
Considering the skills that tomorrow's mechanical engineers will need, Manav Rachna educational institutions offer multidisciplinary mechanical engineering degrees based on the Industry 4.0 revolution. These include:
B. Tech in Mechanical Engineering
B. Tech (Hons.) Mechanical engineering with specialization in electric vehicles
B. Tech Mechanical Engineering with specialization in Smart Manufacturing & Automation
B. Tech (Hons.) Specialization in Mechanical Engineering in Mechatronics
M. Tech Mechanical Engineering in Industrial Automation & Robotics
M. Tech Mechanical Engineering with specialization in Industrial Engineering
M. Tech Mechanical Engineering with specialization in Manufacturing and Production
The program was enriched with courses on robotics, 3D printing, heating, ventilation and air conditioning, automation in manufacturing, computational fluid dynamics, control systems, the Internet of Things, C ++ programming, Python programming, artificial intelligence and machine learning, data analysis, mechatronics and renewable energy resources.

In order to bridge the gap between industry and academia, centers of excellence and cutting-edge laboratories have been set up in collaboration with industrial partners in the following areas:

Daikin Center of Excellence – Heating, Ventilation and Air conditioning – Air conditioning of the HVAC laboratory.
Altair DesignTech Center of Excellence – Product design and development laboratory
Mitsubishi Center of Excellence – Industrial automation
BlockChain Technology Center of Excellence in collaboration with Sofocal
Trans-neuronal technologies for the delivery of the Industry Automation Certification Course for Honors Students
CYPE MPE to provide building information modeling (BIM) software to students and faculties for efficient building design
Robotics and innovation laboratory in association with the industry partner SVR Infotech
3D printing lab facilitates product creation / development using a computer generated design
These centers of excellence help students execute a variety of live projects under the mentorship of industry experts. In addition, Manav Rachna Universities have collaborated with industry partners including Starwire, Victora Tools, Honda, Toolbros and Orient Electric to increase internships, placement opportunities, advice and industry visits.
Manav Rachna enjoys the prestigious All India rank of 118 in Engineering by the NIRF India 2021 ranking. Manav Rachna students receive education beyond subject knowledge, augmenting classroom instruction with laboratory work based on the research, project-based learning, intense industrial exposure and hands-on experience in the design and manufacture of general products and machine components. Application-based knowledge is taught through CAD simulation and analysis software before the final product is manufactured on the shop floor.
For more details on Mechanical Engineering courses at Manav Rachna, click here.
Disclaimer: This article was produced on behalf of Manav Rachna by The Times Internet Spotlight Team.