3rd wave of Covid: exercise simulation conducted to verify medical readiness in Varanasi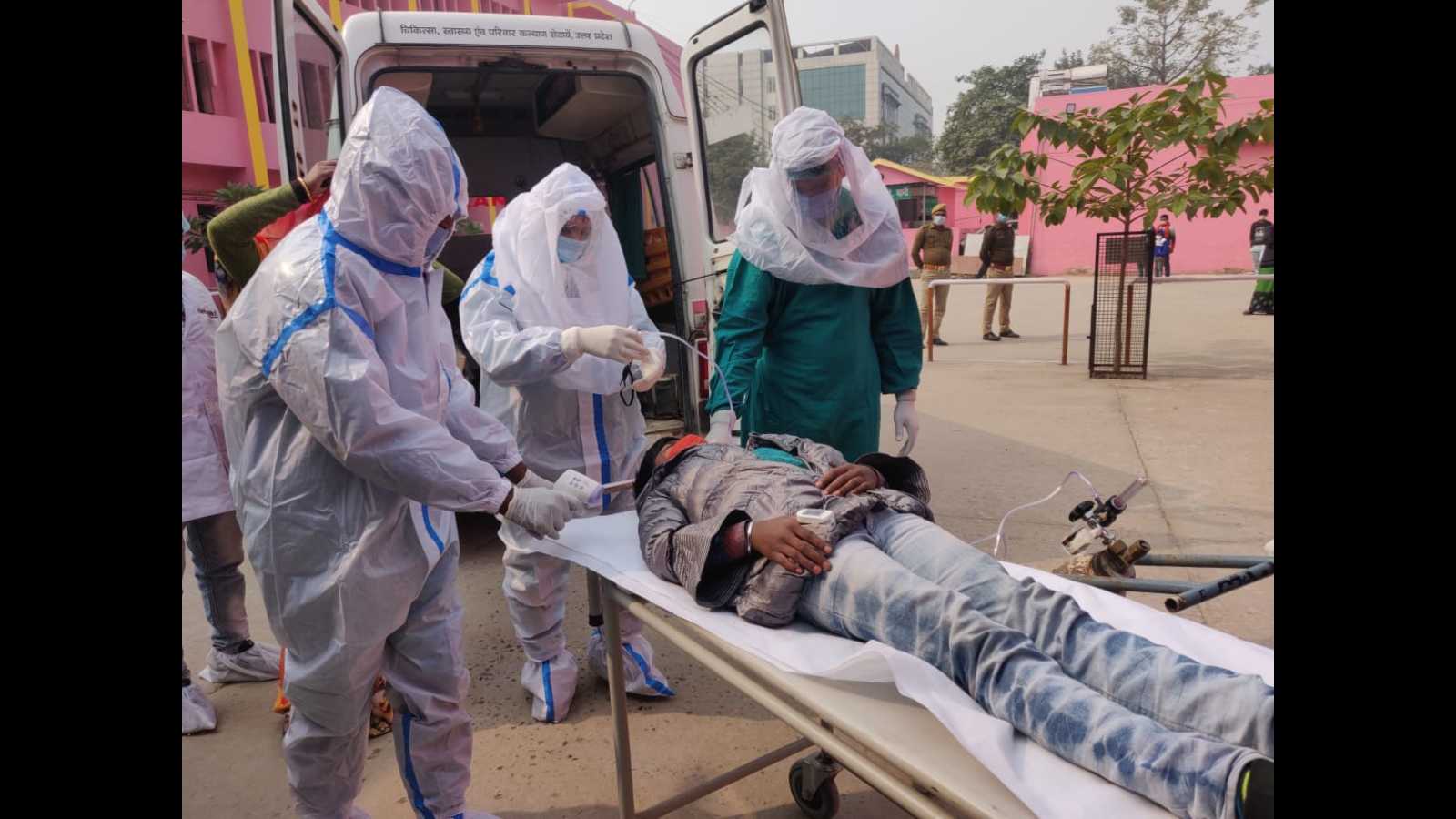 A mock exercise to test medical preparedness for a third wave of Covid-19 infection was conducted on Saturday at six community health centers (CSCs), the Kabirchaura divisional hospital, the government hospital Pandit Deendayal Upadhyay and the 'Institute of Medical Sciences-BHU in Varanasi.
The readiness of doctors and medical personnel, the availability of drugs and the functioning of medical equipment were tested during the exercise.
Gaps in the preparation of the management of the Covid infection have been identified and filled on the spot.
Superintendent in charge of Kabir Chaura Divisional Hospital, Dr Prasanna Kumar, said as part of the exercise, a person who was found to be infected with Covid was brought to the hospital in an ambulance from the SSPG divisional hospital.
It only took four minutes to complete all procedures related to his treatment. During this time, all of the physicians and paramedics involved have successfully completed their duties.
Chief medical officer Dr Sandeep Chaudhary said 30 beds with an oxygen facility and two intensive care beds each were available at six community health centers, including CHC Cholapur, CHC Arajiline, CHC Narpatpur, CHC Gangapur Pindra, CHC Hathi Bazar, CHC Misirpur.
Likewise, 64 pediatric beds with oxygen installation have been prepared at Deendayal hospital. Of these, 20 are intensive care beds. Likewise, pediatric beds with oxygen installation and intensive care beds from Covid have been prepared in IMS-BHU.
Dr Chaudhary informed that the Co-Director Dr MP Singh who was appointed by the General Directorate of Medical Health Services Lucknow inspected the exercise simulation at Deendayal Upadhyay Government Hospital in the presence of the Medical Superintendent , Dr RK Singh.
He said that Additional Chief Medical Officer Dr SS Kanojia at CHC Cholapur, Additional Chief Medical Officer Dr AK Maurya at CHC Arajiline, Deputy Chief Medical Officer Dr Suresh Singh at CHC Narpatpur and Additional Chief Medical Officer Dr AK Gupta at CHC Gangapur and the relevant superintendent inspected the simulation drilling at Misirpur and Hathi Bazar.
At IMS-BHU, a simulated exercise was performed under the supervision of the WHO Chief Medical Officer, Dr Jayashilan and other pediatricians.
Dr Atul Singh informed that a total of 23 PSA oxygen plants have been installed in the district and all of them remained functional during the exercise simulation.
According to the covid-19 protocol, the child was examined by doctors and taken to the intensive care bed.
The Surgeon General congratulated all of the doctors and medical staff for the smooth running of the simulated exercise.